Civilian Medical Training 1
Course number: KTG-610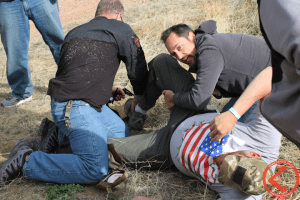 Course Length: 9 hours
Skill Level: Beginner
Maximum Class Size: 6
Range Requirement: No
Course Description:
**** This is a guest instructor class, VIP Discounts apply. ****
The Civilian Medical Training 1 course teaches a combination of available and accepted techniques and strategies adapted for civilian situations and use. Most notably based on two accepted forms of training, TCCC and TECC. Students will learn life saving techniques including; application of tourniquets, hemorrhage control,  casualty evaluation and treatment and much more.
This course fills the cap in training between basic First Aid and advanced life saving techniques, a MUST for any firearm owner.
The Civilian Medical 1 course covers the following:
Tactical care phases (TCCC & TECC)
MARCH Protocol
Practical application of skills
Skill based drills and scenarios
Additional Information:
This is NOT a certification course
This course will not train invasive applications of trauma aid techniques
Students should be in relatively good health as there are practical exercises which can be challenging.
Cost: $200.00