Blue Alpha Gear 1.75″ Molle Double belt rig – Review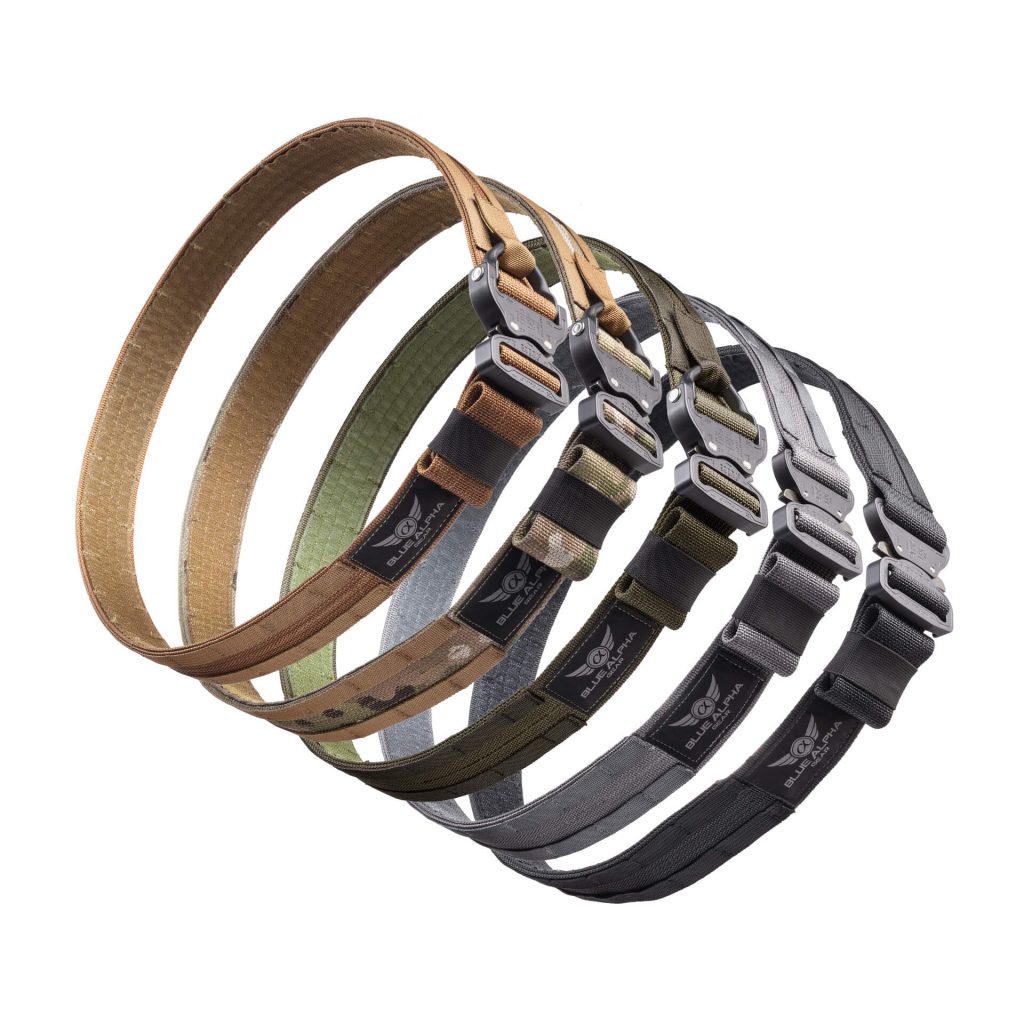 Several companies claim perfection, few actually achieve it. Enter Blue Alpha Gear, a small American company located in Atlanta, GA catering to shooting and outdoor enthusiasts. Blue Alpha Gear specializes in the manufacture of belts for duty, EDC and range / sport.
I teach anywhere from 2 to 5 days a week and was looking for a more comfortable belt system that would accommodate both pistol and rifle magazine carriers, TQ carrier and IFAK as well as pistol holsters. I had been running a somewhat bulky and loose fitting Brokos belt and found it not only uncomfortable, but borderline annoying to wear on a daily basis.
So the search began, of course, asking the internet anything results in about 100 different opinions and recommendations based on dogma and paid influencers. In doing some research among friends, I found that one of my 3500 (give or take) Facebook contacts was co founder of Blue Alpha Gear and I preceded to order a belt as I have a tendency to not only support local, but support people closer to me in the industry. I was not disappointed.
After a 15 day wait on my custom built belt (each belt is made to order and may take 2-4 weeks to receive) I was immediately struck by the quality of the materials and the obvious meticulous devotion to craftsmanship. This is no ordinary belt system.
The 1.75″ outer belt securely attaches to the 1.5″ inner belt using high quality velcro. The inner belt is threaded through your belt loops and the outer belt attaches to the inner belt over top of your belt loops. This allows you to quickly and easily take your outer belt on and off while the inner belt will still hold your pants in position. The MOLLE version has MOLLE loops on the exterior and is designed to be compatible with MOLLE spec gear.
My Experience with the belt
I spent about 20 minutes moving my magazine carriers, holster and other items over to the new belt and tried it on, the fit was perfect out of the box, although you may need to makes some adjustments to the outer belt, very easily accomplished by threading the belt through the included Cobra buckle system.
I carry a belt holster mount made by Safariland attached to a Black Rhino Concealment OWB holster and several High Speed Gear Magazine carriers and TQ carrier, all of which attached with minimal effort.
The next morning I was off to teach my first class with the new set up and I was beyond impressed, the inner belt provided a great base to attach the gear while keeping the outer belt stable under a number of challenging positions and during rapid movements that have left other belts literally hanging.
The net result is I am now able to carry more weight on a stable belt allowing me to concentrate on delivery of our product (education) more effectively as I no longer worry about having to keep my gear from falling off my somewhat skinny rear end!
At an average price of $140.00, it may seem a bit steep on the price, but you will not be sorry you invested in this belt system. Detailed Tech Specifications below.
Technical Specifications
Outer Belt
1.75″ double layer nylon webbing
MOLLE loops on exterior to mount compatible MOLLE gear
1.75″ COBRA® Buckle with optional D-Ring COBRA® Buckle
1.5″ hook velcro inner lining
Adjustment end secured by elastic
Standard Overlap Inner Belt
1.5″ single layer nylon webbing
1.5″ loop velcro outer lining
Simple buckle-free design
Color Matching to Outer Belt
Low Profile EDC/Inner Belt
1.5″ double layer nylon webbing
1.5″ loop velcro outer lining
Same design as our Low Profile EDC belt but with velcro outer lining
Functional as EDC belt when not being used as inner belt
Color Matching to Outer Belt
Company Contacts
CONTACT INFO
Blue Alpha Gear LLC
110 Field St. A-184
Newnan, GA 30263
USA
Web: http://www.bluealphagear.com
Email: Info@BlueAlphaGear.com
Phone: (678) 961-3304
In closing, we believe in this company and we will actively recommend the belts to our students, we have gone as far as setting up and discount code with Blue Alpha Gear for our students and followers. WE MAKE NOTHING on the sale. Code available in our Alumni war room or by request.