When:
February 26, 2023 @ 9:00 am – 5:30 pm
2023-02-26T09:00:00-07:00
2023-02-26T17:30:00-07:00
Where:
Pikes Peak Gun Club
450 S Franceville Coal Mine Rd
Colorado Springs, CO 80929
USA

Contact:
Robert Butler
719-602-1020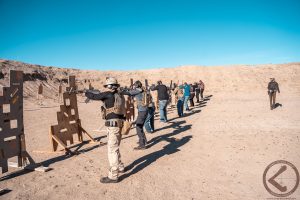 Course Description:  The Tactical Carbine / Rifle essentials course develops the students basic ability to properly zero, shoot and maintain the AR/AK / Mini-14 platform Carbine / Rifle. The course is intended for shooters of all levels, whether a new AR-15 owner or a seasoned shooter, the skills taught create the basis of threat focused shooting and defense using the carbine platform. Don't let the name fool you, this is a tough course and all level shooters will benefit from the course content.
Course training topics:
Firearm Safety
Personal gear and load-out
AR-15 Parts, operation and maintenance
Carbine / Rifle accessories / load-out
Loading and Unloading
Carbine / rifle shooting fundamentals
Proper shooting position
Carbine / rifle zero CONFIRMATION ONLY – MUST HAVE ZEROED RIFLE PRIOR TO CLASS
Foundation Drills
Malfunction Drills – Clearing common malfunctions
Movement – Forward – Lateral
Shooting from Barricade
Other Information:
Course assumes a modern sporting rifle / carbine (AR/AK platform)
350 rounds (or more) required for the course.
Appropriate dress – we train as we fight, cold weather gear is a must in winter months.
At least 3 magazines (if using low capacity, 4 or more).
Appropriate caliber 'snap caps' (available at our gear store) for malfunction drills.
Belt magazine carriers / chest rig / Plate carrier (please call IN ADVANCE if you need to be provided gear (additional charge if not purchased)